When It Comes To Reliability, We Are The One You Need!
Millions of miles – millions of smiles.
Quality Work Through Dedication
Marshall Trans Inc is a family-owned company based in Burr Ridge, IL. We are running a business that is determined to help Owner Operators & Company Drivers find success!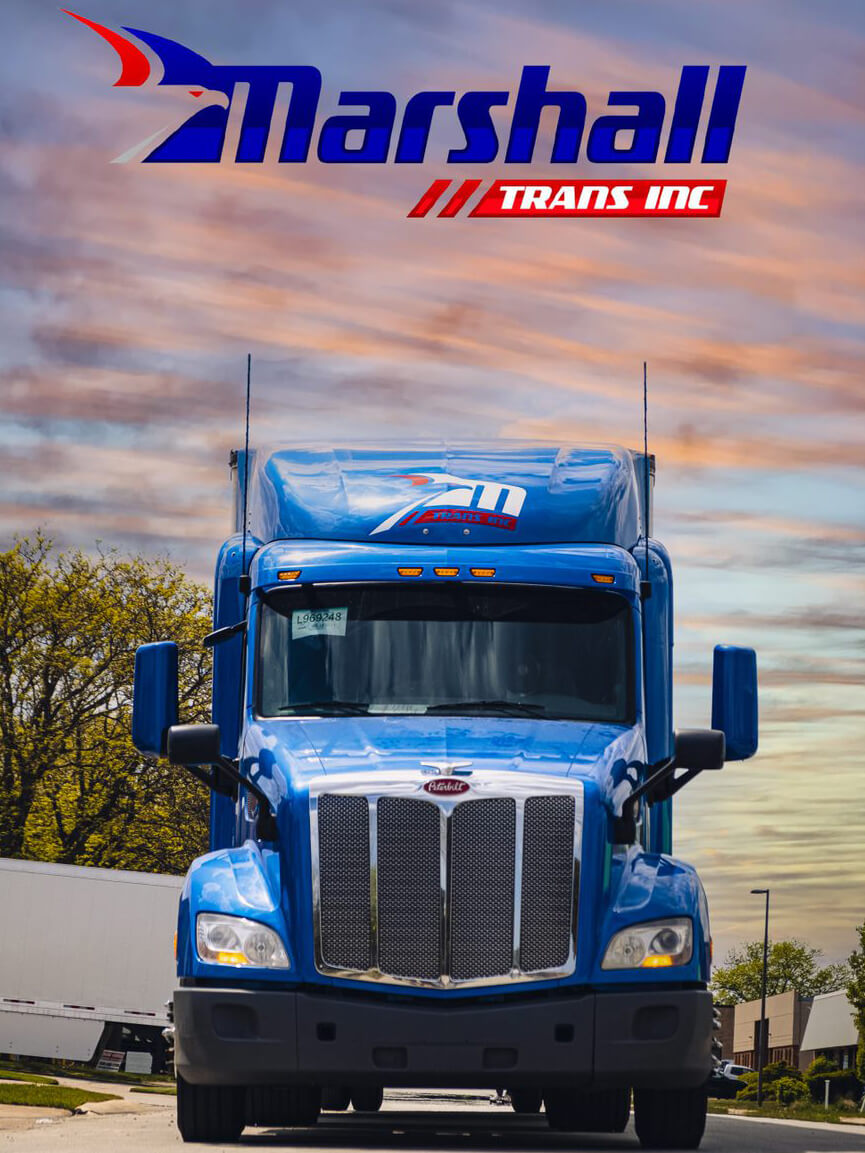 Marshall Trans Inc. - Transport Service
Simplifying your freight & logistics needs with a personal approach. We deliver your cargo, whenever you need it and wherever you need it.

Load delivered with modern, well-maintained trucks and equipment by professional, experienced drivers. 

Freight is protected from theft, spoilage, damage, and weather conditions when hauled in refrigerated trucks and trailers.

Marshall Trans Inc is a provider that can guarantee a safe arrival of your products and save you money and time.

Professionally prepared documentation and paperwork for customers and drivers.
Superior customer service and unique care for the load and drivers on the road.

Company support care on the road for any unwanted accidents or issues.

Simply take a look at testimonials from our employees and business partners. In the meanwhile dive deeper and check our services, open-position, and business opportunities.
Do not hesitate to email or direct call on some of the phones available below.
Your freight delivered safely and on time using a dry van and reefer trailers. We keep our units with great care and road-ready.

From our dispatching setup – we do everything we can to make sure our cargo and drivers are rolling down the road.

With us is not just an average service! We are doing our best to compete in a marketplace with the best prices and the final goal to build strong relationships.
Marshall allows me to be a Son, Husband, and Father. You are not just a driver or a number, you are part of a team.
I presently work for Marshall Trans and I can tell you this, trucks are very nice, auto or manual, fridge ,inverter and microwave, and some have apu,one day orientation and your in a truck making money, dry van or reefer ,no junk, well maintained, 55 to 70 a mile, company, also have lease purchase 88 percent of revenue, run primarily south and midwest, what are you waiting for ,glad I called
Hello I'm driving for 15 years and i drive with many companies and always the same thing but I have 1 months working with Marshall lease purchase and I'm happy 😃 make good money every week I'm very happy really recommend this company all drivers are tired to look a good company Marshall is the company for you
Amazing working experience through years with Marshall. Highly recommend if you are looking for a job opportunity or their services
Very attention too detail in so many way. Now don't get me wrong in any operation you going to have somebody that think he know everything but me myself I look at them n laugh because they still wet behind the ear. The owner is very good about the way he run the company. I call him the General he very hand on with the Company. Signing off the Major USMC retired. Ooooohhhhhhhh rrrrrraaaaaahhhhhh. Devil Dog dead too the POW.
Today marks our 1 year anniversary with this company. We are just as happy to be working with them as we were when we first started. The company has well exceeded our expectations and continue to do so. We have been driving about 5 years total and at this company we found the best DM you could ever ask for.
Drivers Testimonial – John M.
Drivers Testimonial – Edward D.